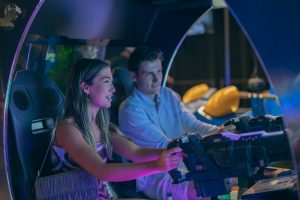 From 27th January 2022, multi-attraction venue, The Funderdome, will open its doors to Melbournians at Highpoint.
Melbourne, Australia – The Funderdome is the "Home of unprofessional sport" debuting next to HOYTS at Highpoint. It's a fun competitive socialising destination with a world class two- level 18 hole crazy golf course, cornhole, shuffleboard, old and new school arcades, karaoke party rooms, diner-style pub food and beverages, and endless good times.
"The Funderdome celebrates the joys of unprofessional competition and takes you back to a nostalgic time where we'd play for fun and friendship, not fame and fortune. Every aspect of the Funderdome experience, from the games, the hospitality, to its super positive club rules and folklore is about low-stakes winning and celebrating every win in not all-together serious ways," said Tyrone Dodds – Director of Property & Business Development.
It's large 2,000 square metre space is zoned for maximising fun no matter your age, your skills, or how you love to play, with each attraction harking back to a different pre-Internet nostalgic era.
Playas Crazy Golf – Yep, that's right mini golf just got serious. Playas features 18 holes of mini- golf goodness and two levels of putt-putt perfection. Designed in collaboration with the world's leading mini-golf course designer (Zachary Pullman Studios London), Playas promises challenging play in a cool retro Coney Island atmosphere.
Old School Arcade – Pew, pew, ping, ping! That's the sounds of those super-fun arcade games that never get old! Space Invaders, Pacman and epic pinball – they're all at The Funderdome. Grab a joystick and pretend it's 1985. Mullet haircuts and double denim are very welcomed.
New School Arcade – Explore the home of our ever-evolving collection of the latest and greatest arcade games! Try our amazing range of redemption games, our classic, our infamous Dark Ride, and immersive experiences that'll be sure to blow your mind.
Boom Box Karaoke – Sing your heart out in the Funderdome private Karaoke lounges! What's more fun than belting out the chorus of your favourite song? How about all of your friends belting it out with you? Boom Box Karaoke at Funderdome has two private spacious box style karaoke lounges, steeped in groovy 70's nostalgia.
The Clubhouse – The Clubhouse is the centre of all the ever-changing action at Funderdome! Eating, drinking, lounging performances, and all the unprofessional sports you love. Yell at the game on the big screen, play all the unprofessional sports; cornhole, shuffleboard, pool, foosball, Atari pong or air hockey. Come night time, we clear The Clubhouse for DJ's, events and more. Just add friends and you're winning!
Alongside the amazing entertainment, The Funderdome will provide guests with an American- inspired gastronomical experience featuring pizza, funderdogs, and more!
Entry into the Arcade is free, and consumers can top up their Funderdome card to play games in the Old and New School Arcades. Party packs and experiences are available from $40 per person and can go up to 400 guests.
Funderdome will open to the public from 10am on 27th January 2022 and is located next to HOYTS Highpoint, 120-200 Rosamond Rd, Maribyrnong VIC 3032.
Funderdome is open from 10am to Midnight Sunday to Thursday, and open from 10am to 1am Friday and Saturday.
---