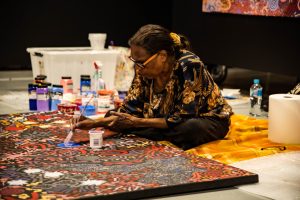 (Gabriella Possum)
Halliday rated 5-star Victorian winery Mitchelton is set to release a premium collection of wines showcasing the work of leading Indigenous artist, Gabriella Possum Nungurrayi.
Situated behind the picturesque Goulburn River precinct near Nagambie, the winery is home to Australia's largest commercial Aboriginal art gallery, The Mitchelton Gallery of Aboriginal Art, which currently features Gabriella's works.
Mitchelton is now set to expand its partnership with Gabriella Possum Nungurrayi by featuring three of the talented artists' original works on a range of limited 2020 vintage Shiraz, 2020 Chardonnay and 2021 Rose wines, all produced from fruit sourced across three of Mitchelton's vineyards – in Nagambie, Yarra Valley and Heathcote.
Possum, whose paintings have been managed by Mitchelton Gallery curator Adam Knight for three decades, said she was excited to share her art with as many people as possible, "teaching people to understand what we have, where we come from and how all these stories are connected together".
"My art is inspired by my country, by women's and men's groups, and it's important for people to look at the stories, where we come from and which way we follow," Possum said. "I can't wait to see what my art is going to look like on the wine label!"
Knight, who is deeply passionate about Aboriginal art and has worked with Indigenous artists for more than 30 years, said Possum's work, known for its magnificent use of colour and exquisite use of traditional Aboriginal iconography, continues to be the most popular at the gallery. 
"When you walk into the gallery, you can immediately identify Gabriella's work. She is one of the greatest artists in Australia to use the traditional 'dot' technique and iconography, which is what men and women would use when they painted in the sand," he said.
"The traditional elements are also evident in the U-shapes of women sitting down, campfires the spinifex grass, waterholes and bush foods."
According to Knight, Gabriella's use of colour is some of the most vivid, and her strong connection to Country and her father, with whom she would paint, wander and share stories, are depicted in painted stories such as Bush Tucker, Women's Ceremonies and Seven Sisters Dreamings.
"When using colour, Gabriella starts with five or so primary colours and sits for hours, mixing a pallete of up to 50 colours before starting her artworks," Knight said.
Knight said the winery and gallery acknowledges and pays respect to elders past, present and future in the entire lifecycle of this collaboration, and to enable Indigenous artists to present their artwork and share their stories with the world.
Selected by the artist and gallery curator Adam Knight, the original paintings, titled Grandmother's Country and Seven Sisters Dreaming, are available for purchase through the Mitchelton gallery.
Mitchelton's premium range of wine featuring the works of Gabriella Possum Nungurrayi includes Heathcote SHIRAZ 2020, Nagambie ROSE 2021 and Yarra Valley CHARDONNAY 2020 is exclusive to Mitchelton Wine Club or from the Cellar Door.
---