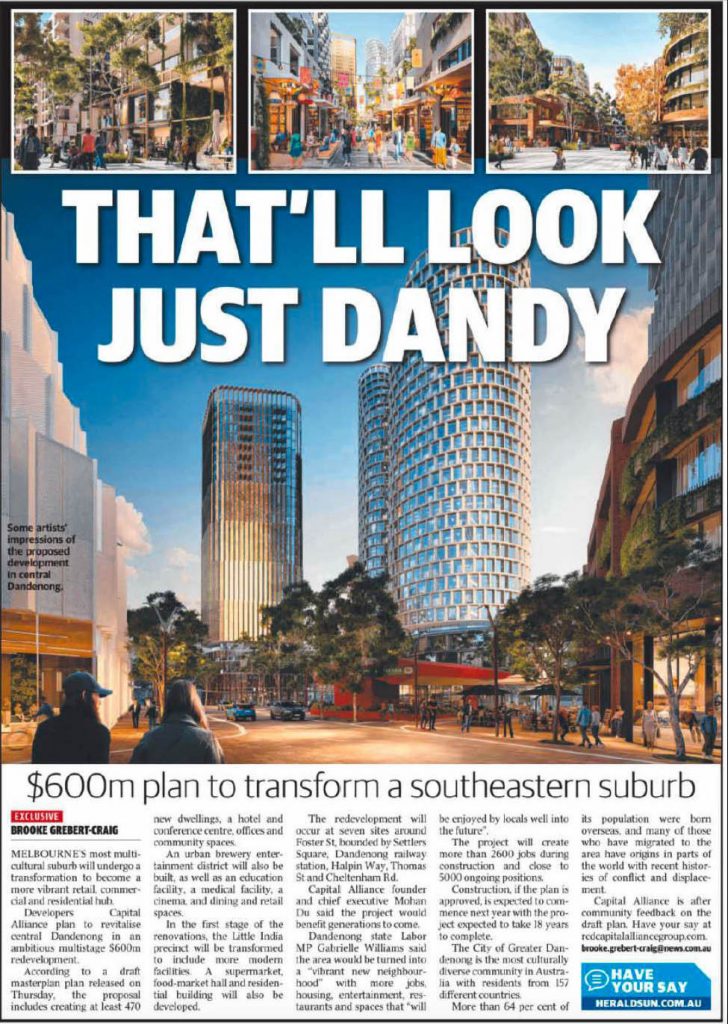 The redevelopment of cultural melting pot central Dandenong is slated to add over $1.5 billion in value to the region and create more than 5,000 jobs upon completion, developer Capital Alliance says.
Development Victoria, in partnership with the City of Greater Dandenong, has been responsible for the Revitalising Central Dandenong project since its commencement in 2005/06.
A draft masterplan released by Melbourne developer Capital Alliance shows the next phase of the development along with design renders to give locals a glimpse of what it will look like.
The proposal awaiting community feedback showcases the creation of at least 470 new dwellings, a hotel and conference centre, offices and community spaces for retail and dining, entertainment, education and healthcare.
Capital Alliance founding and managing director Mohan Du said he grew up in Melbourne's Eastern suburbs and experienced how local redevelopment projects that he transformed the community were what led him to take on the Revitalising Central Dandenong project.
"As a first-generation migrant who grew up in Blackburn and Box Hill 20 years ago and saw those areas gentrify over the last couple of decades, this sat with me. So being able to participate in a tender that could shake a place like central Dandenong was really a once in a lifetime opportunity, "Mr. Du said. "Seeing the diverse culture of Dandenong and how we could be a part of shaping its future for future generations is really priceless."
Construction on the development's first stage is expected to start next year, and will include delivering a supermarket, a food market hall, and residential buildings.
Capital Alliance will invest $600 million to develop the area next to the Dandenong transport hub.
To maintain the site's strong cultural identity, the project will also deliver a brand-new Little India precinct.
The new Little India will provide more modern facilities and services, as well as better spaces for tenants, and will be built as part of the development's first stage to minimise disruptions to traders.
The City of Greater Dandenong is Victoria's most culturally diverse community, home to residents from more than 160 cities across the world. There are about 17,500 businesses in the region, employing at least 95,000 people locally.
Du said the genesis of the project was to bring people to Dandenong and to strengthen its position as an economic hub.
"What we're not doing is creating a concrete jungle. We're improving the community, the amenities, and if we look at what it will bring for the community and for the local businesses in the future, it's going to be tremendous."
---